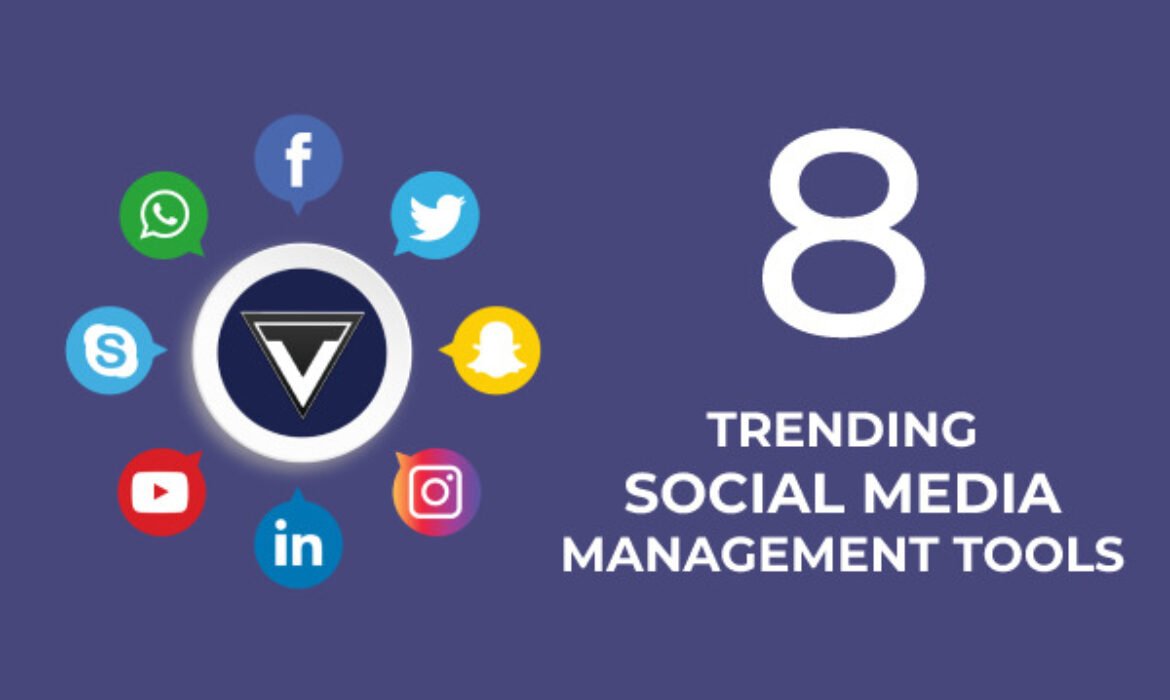 In today's internet world, social media is the standard way for any business to reach a wider audience. In any given month, approximately 1.27 billion people are active on Facebook – roughly equivalent to the entire population of India, the world's second-most-popular country.  Not only on Facebook, but there is also n number of active users in every social media channel as it has been becoming popular. So having an active presence on all major social media channels is necessary for any business to get trust and brand awareness while engaging with its potential and current customers these days.

Everyone uses social media for their business growth, but very few do it efficiently. They spend a lot of time and resources and get back minimal results.  Stop wasting your time on these things. If you are not managing your social platforms, with social media management tools, that needs to change today!

Social media management tools will help you manage multiple social accounts in one place, advance post schedules, track analytics across platforms, engagements, run contests, and so on so. These tools are really great changers for your social strategy!

And good news for you, I have rounded up a list of the most trending social media management tools to incorporate your social strategy.

1. Buffer
2. Hootsuite
3. Sendible
4. Later
5. TweetDeck
6. Sprout Social
7. IFTTT
8. eclincher
Let's start with my personal favorite, buffer

1. Buffer
Buffer has been a trending social media management tool for a long time. and it is a  respectable platform that allows you to manage multiple social profiles with ease. Using buffer you can easily share your posts, articles, videos and you can schedule content across different social platforms through a single dashboard. Here you can track your followers' activity and know the perfect time to publish your content based on that.
The free version is compatible with Facebook, LinkedIn, Twitter and schedule up to ten posts. You need to get the paid version to unlock multiple profiles.

2. Hootsuite
Hootsuite is a versatile social media management tool for a complete solution to all of your social media management needs. Instead of managing all of the social channels manually, you could open Hootsuite and handle them with a single dashboard.  Hootsuite makes it easy to manage multiple social profiles, schedule posts in advance and generate leads with social content, analytics for performance across all major platforms, and also easily add account managers. A number of integrations are also available, such as Asana, Slack, Mailchimp, Trello, and Zendesk ensuring that you can work productively and efficiently to build social media marketing campaigns.
It has a limited free plan. Pricing starts from $29-$599 (30 Days free trial).


3. Sendible
Sendible is another powerful social media management tool especially for agencies who need to manage social profiles for several clients
Sendible allows you to schedule your content either individually or in bulk across different social media platforms and manage your dashboard according to your branding to attract new clients. Here you can have multiple fantastic organizing instruments such as smart queues, which allows you to change publishing dates, recycle best-performing content with repeating schedules, and a community calendar, which allows linking and curating RSS feeds. It's compatible with multiple social networks and blog services including Facebook, Linkedin, Pinterest, Youtube, Twitter, WordPress. It can also connect to Google My Business, blogger, Tumblr, Facebook pages, and others.
Pricing starts from $29 to $299 with 30 days free trial.


4. Later
Later is a free and best social media management platform for starter businesses looking to schedule photos and videos on their social media accounts with a single dashboard.
Mostly later focusing on visual planning. Initially Later started as a platform focused on Instagram content planning to optimize the aesthetic of the Instagram feed but has evolved into a visual calendar, incorporating most social media channels such as Pinterest, Facebook, LinkedIn, and Twitter profiles. It does not have an RSS integration or social inbox but it provides an analytics feature to optimizing your content planning. Here You can upload and schedule unlimited images to their Media Library and can search and repost best performing content. And also you can preview the posts and reorder when scheduling your Instagram posts.
On the free plan, a single user can get one social set with 30 scheduled posts per social profile. Pricing starts from $7.5 to $41 per month.


5. TweetDeck

If Twitter is the jam and bread of your social media marketing strategy then TweetDeck is likely the best social management platform for you! It's a free and great social media management tool that allows Twitter birds to use custom timelines, create and manage Twitter lists, searches, handle more than one account and view all customizable streams of information including notifications, tweets, messages, tags, and scheduling areas at the same time in a single interface as it links your Twitter account.
You can identify the best resonate time with your audience and get your active content anytime without having to upload it in real-time.
If you are an active user of Twitter, have a look on TweetDeck. This social management tool helps you to remove some noise, makes the time you spend researching.


Sprout social is another amazing social media management platform if you are looking for one place to manage all social media profiles.
This tool will not only helps you to queue your social posts for all your social media profiles but also receive reports in detailed and keyword searches at the same time within a single stream.  It has a clear and cordial interface and is logically laid out. It Presents a Smart Inbox that collects all your social messages. You can combine your social inboxes in any way you wish and you can respond to all of your messages from followers. No need to individually log in to your Facebook, LinkedIn, Twitter, Instagram, or other profiles to check these messages.
If you have got several team members working on your social media campaigns together, Sprout Social is the best option for you.
Pricing starts from $99, $149, and $249 per month (with 30 days free trial).


7. IFTTT
IFTTT (If This Then That) is one of the creative social media management tool and useful for social media marketers as the tool can read, post, and do several things with almost all major social networks.
It unifies your posts on different social media channels and helps you to build a connection with various applications and devices so that they'll perform on action-reaction mechanism if triggered, You can build your own unique recipes with triggers and actions. As you create the trigger, it will start an action. For example, when you publish a post (i.e., trigger), IFTTT will automate and generate a tweet (i.e., action) that helps you boost productivity effortlessly.
It has the feature of sharing posts automatically across social media channels and apps.


8. eclincher
eclincher is another fantastic all-in-one social media management tool packed with all features for social media managers, businesses, agencies, marketing professional teams who needs that extra workflow and team collaboration.
It helps you auto-post with smart schedules, respond to social messages, analyze your social media performance and integrate RSS feeds, influencer discovery, social media analytic reporting, campaign tracking, and more. This social media management tool lets you manage multiple social media profiles, pages, and groups with one single dashboard. It connects with Facebook, Instagram, Linked In, Twitter, Pinterest, youtube, and blogger.
Here you can check how many pending notifications you have. So as you make a message, it will disappear from your list so that you can focus on the remaining messages.
Pricing starts from $49/month with 14 days free trial.


Over to you!

We are sure these are top social media management tools in the entire ecosystem of social media. Here some tools are better suited for agencies and teams while others suited for small businesses. If you find your favorite tool here, we would happy to hear what you love here. If we've missed any of your favorite tools (Sorry!). Choose the right tool based on your situation and budget.
Thank You!

Check this out: How Instagram Can Be Used For Promoting a Business [9 Proven Formula]